An Open Letter to the Locker Room Model
Dear Locker Room Model (herein referred to as LRM): I have seen you almost every weekday for the past two months. Every morning, at approximately 6 AM, we're either starting our workouts together or I see you in passing on my way to the weights area. I see you in the weights area (and kudos to you for that, my fellow Wonder Woman). But, I'm in my own world so I don't really pay attention to what you're doing. We usually wrap up around the same time, though, so I know I'll see you again in the locker room. I remember the first time we went through our routines simultaneously. Showering, dressing, makeup applying, hair styling. Post-shower, prior to makeup: I put on my entire outfit for the day. You, however, were much more bold. ​You're a beautiful girl with a perfect body, and you own it. You put on your perfectly matching bra/thong set. You waltzed over to the mirror with your makeup and hair products to get ready before you got dressed. My first thought was, "UGH." I immediately felt defensive and annoyed. "We get it, Barbie, you're smokin' hot. You don't need to rub it in everyone's faces."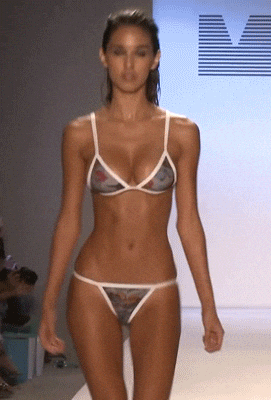 I kept my eyerolls out of your view for several days before the thought hit me: "Davina... Why are you shaming her?" I try to do a character check as often as possible. I'm not perfect and I never will be, but I think it's important for my own well-being to self-assess when I'm being negative. Today's world is full of way too much anxiety for me to knowingly be a sh*tty person and be okay with it. After spending time reflecting on my frustration with you, I came to the conclusion. I was frustrated by you because I did not look like you myself. LRM, I know you've noticed me also. You see how I show up every single day, focus hard, and work myself breathless. You don't know me, but you know I'm dedicated. Therefore, in a side-by-side comparison, my mind automatically equated my body's differences to inadequacy. "Well, I work just as hard as her, but I'll never look like her. I will never be that beautiful."
Let's put a positive spin on this. Perhaps it's true that I will never look like you. But, that is because YOU never looked like ME. You don't know anything about me other than I'm always wearing really bold tanktops and that I listen to rap too loudly while I'm lifting. I don't know anything about you other than you're so pretty and you definitely work harder than your boyfriend does (...when he shows up...). So, who knows what your story is? Maybe someday we will talk to each other. Maybe we'll become friends and go to coffee/post-workout brunch and you'll tell me about your life so far. Regardless... I definitely know my own story. I know how far I've come. I know how hard I've worked. I know how long it has taken me to reverse my toxic thoughts and to treat myself lovingly. I know that I have always been beautiful, but I needed to prove it to myself. And, finally: I know I definitely didn't get to this point by comparing myself side-by-side to someone like you. At the beginning of my journey, I didn't want to be you. I had tried - and failed - at that goal for years. When I made the decision to love myself, I wanted to be the best version of me.
Thank you for unknowingly reminding me of that. On the completely opposite end of the spectrum, I've noticed another young woman. I don't know if you've seen her also, LRM. I'll call her "Corner Girl," (CG to abbreviate) because that's where she stands near her chosen locker. She reminds me so much of the woman I was five years ago; so much that I have to fight the urge to compulsively hug her every time I see her. CG operates much differently than you & I, LRM. CG puts all of her things in the corner locker because she doesn't want to make a big deal about being there. CG comes to spin class twice per week, because having the instructor's motivation is more empowering than just going on the bikes on her own. When CG wraps up spin class, she grabs 4 or 5 towels before she gets undressed. When it's time for her to get undressed, she makes sure every inch of her is covered by a towel so nobody can even catch a glimpse of her body while she's changing. It takes her several extra minutes to go through this every time. After she showers, she repeats the entire process while getting dressed in her clean clothes. LRM, I'm somewhere in-between you and CG. But, your body confidence has inspired me to live with 10X my own. It is, officially, my goal to be the most loving, accepting, body-positive person in the locker room. I've started complimenting women with cute outfits. I say "Hi, how are you today?" to anyone who joins me in the sauna. And, most daring for me: I've started getting ready in my undies, just like you. Although I'm not nearly as Sports Illustrated as you, perhaps I can show women (especially CG) that healthy can look different than they imagine.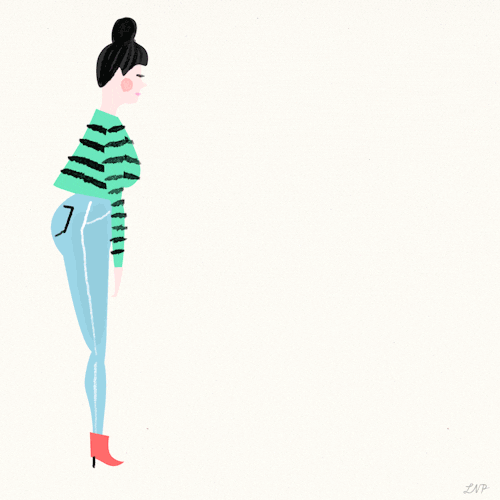 LRM, it's time we come together. Your body is the ideal, but my body (that works just as hard as yours) is something to also be celebrated. You have never once given me side eye for my growing body confidence, and I will not do the same to you. It's time we stand side-by-side and be positive examples to everyone... and especially to my girl, CG. She is doing something amazing for her self-care by coming to the gym twice per week. Even if she doesn't look like us, she should not be afraid to expose her body in front of anyone. She should love her body, regardless of whether or not it's still a work in progress. If we can create an encouraging, all-inclusive environment in our locker room, perhaps CG will feel empowered to step into her brave, beautiful potential, too. So, Locker Room Model, soon-to-be-friend: Thank you. Thank you for being unapologetically yourself and for showing off your body every day in a locker room full of fluctuating self-esteems. Thank you for making me realize that my own demons can still surface if I don't silence them first. Thank you for making me want to be a better person, not just for myself, but for everyone I come in contact with at the gym. Your confidence has inspired me to carry myself similarly. I mean, I have my "You are Enough" affirmation tattoo proudly placed on my stomach. Perhaps, if more women in the locker room see it, they'll realize they are enough, too. I am proud of you and I am rooting for you just as aggressively as I'm rooting for Corner Girl. Your Future Swole Sister, Davina QUOTE OF THE DAY "We don't change. We take the gravel and the shell and we make a pearl. And we help other people to change so they can see more kinds of beauty." - P!NK